penzión u adama
Is a new guest house and restaurant, with comfortable newly furbished apartments, which offers possibility of spending free time in pleasant surroundings open all year long. Parking in open space of the guest house is another advantage.
The guest house is located in picturesque surroundings of village Hronské Kosihy, in the heart of touristically attractive Tekov region. You can look forward to high professionalism, Slovak hospitality and friendly staff at our guest house.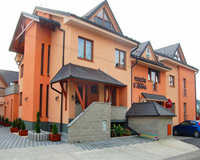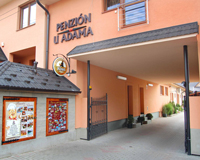 Total capacity of the guest house is 46 beds. The rooms are single bed, double bed and tree bed. Each room is equipped with sanitary facilities, shower bath, television and mini bar.
It is possible to spend your time pleasantly at playing table football and sitting in a congenial atmosphere with a fireplace. The visitors will surely be impressed by stylish surround of restaurant or stylish boxes also in the summer as well as in the space of grounds with roofing.